Undoubtedly, the rise of the creator economy has electrified a new movement of entrepreneurs, creative-minded people, tech-savvy, etc.
These people use social media posts — both organic and paid — to grow communities where they sell products and grow businesses.
While we are looking at the absolute domination of this industry, the number of creators available across social media pages is jaw-dropping.
Moreover, the creator economy is witnessing rapid economic growth, with the industry raking in over $100 billion in the last few years.
In 2023, this figure is set to grow even bigger! All thanks to the industry's attention from investors, media company owners, and marketers.
Without much ado, it's evident that the creator economy is here to stay with new players joining the game.
What is the Creator Economy?
Ideally, the creator economy can mean the league of businesses built and developed by over 50 million content creators and community builders.
Without social media, bloggers, videographers, and specially designed software, these independent content creators will be nothing.
This software includes finance tools to help creators and curators grow and monetize.
What is the State of the Creator Economy Today?
The creator economy has only been around for a decade now, and over 50 million people across the globe consider themselves content creators.
Undoubtedly, the industry has recently become the fastest-growing and most patronized type of small business.
Towards 2021, the creator economy was estimated to be around $100 billion.
Out of this figure, YouTube alone generated $30 billion in revenue. By the end of 2023, it's likely worth — even more — in revenue.
According to a survey conducted by the LEGO Foundation, more kids want to become YouTubers (29%) in America when they grow up compared to an astronaut (11%).
And 58% of the kids (respondents) can independently create digital content and grow their brands. So gear up; more creators are coming!
With so much of this new movement happening today, top content creators are likely to benefit the most from the creator economy. 
While the "middle-class" creators might face the dilemma of getting their voices heard in an industry full of noise.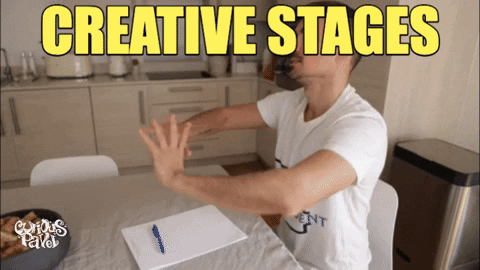 General Creator Economy Statistics
According to Statista, over 6 billion people worldwide use smartphone devices, out of which 4 billion are connected to social media.
There are 50 million content creators globally, and that momentum from 2021 will only get better.
The following are the surprising creator economy statistics that show what the time ahead in the industry looks like:
1. The Creators' Economy Valuation is Around $104.2 billion
It's no longer news that the creator economy is immense. But the question is just how big? According to Influencer Marketing Hub, the industry valuation is over $104 billion.
This figure seems accurate if you consider the report made by Fortune Magazine in 2021, where top YouTubers earned $30 to 50 billion.
On Kajabi, knowledgeable entrepreneurs collectively processed over $3.5 billion in memberships, sales, and subscriptions.
If you sum these and all other content monetization outlets and marketplaces together, that $104.2 billion valuations seem reasonable.
2. 50 Million Join the Creator Economy
The pronounced focus and attention the creator economy has been getting in these recent years have never been recorded.
From Instagram, TikTok, and YouTube, content creators have substantial access to the world's population.
Influencer Marketing Hub published that over 50 million independent creators participate in the magnificent creator economy.
In truism, this number seems authentic and accurate, judging from the estimated stream of revenue generated by the industry in 2021.
3. 46.7 Million Creators Consider Themselves Amateurs
Signalfire, a venture capital firm, has reported that 46.7 million out of the 50 million creators globally consider themselves amateur.
A more significant number of these amateur creators are earning dollars from their creativity, only they do not see the money as worthy enough to give up their jobs.
4. 2 Million Global Creators Make Six Figures
Out of the 50 million global creators on Instagram, Youtube, TikTok, Twitch, and other social media platforms, 2.3 million are full-timers.
These top content creators earn six-figure figures just by posting content on their social media pages for their target audience consumption.
This means 90% of the content, video, audio, picture, and text-based content enjoyed by Gen Z today is created by independent creators, not corporations.
5. 31% of the creator's revenue comes from the brand deal
There is an uneven distribution of wealth in the creator economy as creators are free to explore any revenue streams available to increase their earning
Most of the revenues generated by content creators are relative to their brand deal, following, company collaboration, niche, engagement rates, etc.
Hence, top content creators' main stream of income comes from brand deals (31%), 25% comes from their brand, and 15% comes from the creator funds.
Creator deals and endorsements are considered personal and more believable and, as such, bring in better conversion rates and ROI for brands.
6. 63% of the audience have tipped their favorite creators — at least once.
Tipping is now prevalent on Facebook and other social media platforms. It'sIt's the best way for creators to know what their users like and enjoy the most.
The Influencer Marketing Hub reports that 63% of the audience have tipped their favorite content creator on social media.
Most of these users gave between $5 to $50, with about 5% of audiences to have tipped content creators more than $50.
7. Age 18 to 24 users prefer TikTok contents
The content creation world is opened to everyone in Creator'sCreator's economy. Anyone can virtually publish their content and monetize them.
18 to 24 users prefer TikTok content on social media, and over 54+ prefer YouTube. At the same time, Instagram is very consistent with 18 to 44 years of age.
8. Influencer marketing valuation is around $13 billion
The MediaKix marketing survey revealed that influencer marketing planned a budget increase from 39% to 65% between 2018 to 2020.
Also, NeoReach'sNeoReach's study shows that over $800 million is reserved by venture capitalists for the creator economy startups.
Statista observed that the global market valuation for influencer marketing is around $13.8 billion, more than what it was obtained in 2019.
9. Thousands of YouTubers Have Over 1 Million Subscribers
There are 37 million or thereabouts YouTube channels across the globe. As such, creators do have tough competition on that platform.
In November 2020, SocialBlade gathered that 22 thousand YouTube channels have more than 1 million subscribers.
10. There are 63% Gen Z and 48% female creators in the industry
The world is digital, and the Gen Zs are making the most income across all types of content online.
These creators are likely to be female (48%) and young lads of 18 to 24 years of age (63%).
11. Startup investments hit $5 billion in 2022.
Content creators will be eager to have ownership of their platforms more than before. Thanks to the massive influx of capital.
This has given founders — even more — leverage and could tempt creators to demand more from the platforms or companies benefiting from their success.
It was gathered from The Information's website that over 100 US-based startups have raised above $3.7 billion for creators through mid-October.
During the third quarter of 2021, funding dipped from the second. Still, it was brilliant in the other two quarters, with investments topping $1 billion.
At the beginning of 2022, the creator economy industry crushed $5 billion in startup funds.
12. 41% of US content creators use blogs or websites off the social media to connect with their audience
To some content creators, YouTube and Instagram are not everything. 41.0% of US creators run personal websites to reach their target audiences off social media.
Some also use podcasts to stay connected, while 43.3% use only social platforms and nothing else.
13. More consumers will be subscribing to the creator's membership site in 2023.
Similarly, it was reported by The Creator Economy GWI 2023 that 15% of the creator's consumers subscribed to the curator's membership site.
And the figure is way higher (8%) since the start of 2021. On another level, isn't it?
14. 78% of consumers discovered new products from watching creators' videos.
A survey conducted by Statista in 2021 revealed that creators served as information sources for more than 7 in 10 social media users across the globe.
In the survey, 78% of the respondents said they discovered new products while watching creators' videos.
Meanwhile, 76% of respondents reported finding helpful information about their desired products or brands from creators' content.
15. During Covid, creators' ad revenue declined by 33%
Everyone believes that the creators' ad revenue drastically increased during the lockdowns, but the reverse is the case in practice.
Consumers watched a substantial amount of creators' content during Covid, no doubt about it. Still, the majority of the ad companies paused their ad campaigns.
This may be a short-sighted decision made by the companies, as many industries witnessed an overall increase in sales. Pity!
16. BuzzFeed to start paying $10k to creators.
In an attempt to pilot a social BuzzFeed Community or hub, BuzzFeed will start paying $10K to creators on its website.
The program is to award prizes to tier one and top-performing creators and content, even though it'll end in the summer.
17. More than 230,000 YouTubers have 100,000 subscribers.
Being one of the leading social media platforms for content creators, around 230k channels have 100,000 subscribers.
Such is the figure that YouTube considers the creator worthy of having a partner manager that will help him with his future growth.
18. Creators aged 18 – 24 years of age are earning big
Content creators aged 18 to 24 years make around $520 on a post, $807 per video, and over $245 or thereabouts per Instagram story.
Millennials closely follow these young minds. They get $448 per social media post, $796 on a video, and around $229 per Instagram story.
Compared with the Gen Alphas and the Gen Xers, this revenue gap will become substantial as they earn around $200 per post, $100 per Instagram story, and less than $300 on a video.
19. Creators want to own their audience
Creators are bidding goodbye to unreliable income while embracing total control over their audience and content.
If you fall behind this trend, endeavor to make 2023 the actual year to design your membership site.
20. T-Series and PewDiePie have exceeded 100 million subscribers.
In 2019, all the YouTube channels scooping more than 1 million prospective grew by 65%.
But today, T-Series and PewDiePie are bragging of over 100 million subscribers. Power of contents consistency?
21. Etsy remains the architect of Creators Economy
In 2020, shoppers purchased masks worth $346 million from Etsy alone between April and June.
On Etsy, top mask sellers are generating millions using the creator's tools. No wonder Etsy remains the true architect of the creator economy.
22. Gumroad creators' revenue increased by 94% in 2020
Gumroad content creators earned $142 million in the year 2020 alone, that's up to 94% compared to 2019.
Put simply, if 46,000 content creators earned $142,000,000, if the two number is divided, you'll arrive at $3,000 per creator.
However, the intermediate creator earned $70 only in 2020, and the top 1% of creators received 60% of the revenue in 2020.
Hence, content creators in the top 10% division earned 92% of the overall GMV.
23. 64% of US-based creators use non-social platforms.
While 41% of US creators have personal websites for interacting with their prosperous audiences, 64% of them have monetized the platforms too.
Hence, new content platforms bring a new stream of revenue. These non-social platforms were being monetized via sponsored collaborations.
Thus, the 2 out of 5 creators depending majorly on social media platforms rely only on Facebook, Instagram, TikTok, YouTube, etc.
They depend on these platforms at their peril. Remember, social media policies and algorithms are always subject to change and scrutinization.
Youtube Creator Economy Statistics
Although TikTok looks energetic on its mission to become the most influential platform with its meteoric rise, YouTube maintains its spot as the leader of online video platforms.
It's maintaining this top spot for a reason. That is its revenue-sharing program, where billions of dollars are shared with content creators each year.
In terms of the magnificent creator monetization model, no other online video space is even close to matching this YouTube achievement.
Alphabet reported that in the Q4 of 2021, YouTube scooped $8.6 billion in advertising revenue and $28.8 billion in the whole year.
From the above figure, it's obvious that YouTube witnessed a significant jump in its 2020 performance.
And with content creators pocketing 55% or thereabouts of YouTube ad revenue, that means creators received over $15 billion from YouTube throughout 2021.
Such is a substantial amount of the total creator economy funding. Isn't it?
Instagram Creator Economy Statistics
Compared to other years, Instagram experienced remarkable growth in 2021. Moreover, it doesn't look like it'll stop growing in the coming years.
Below are the Instagram statistics that show how valuable the social media platform is to any business:
24. Instagram is ranked 7th on the list of most visited online spaces in the world
Based on the overall website traffic, Semrush reported that Instagram belongs to the team of elite websites globally.
Semrush ranked Instagram's 7th most visited website globally, with over 2.9 billion web visits per month. Classic, right?
Having said this, you might want to be informed that there are still users that don't log in using their mobile app.
The figure above is a good reminder that thousands of people are viewing your Instagram story via their laptops or desktops.
25. Instagram is ranked the 4th most used social media daily
In terms of active global (social media) users daily, Instagram is ranked behind only Facebook, Whatsapp, and Youtube.
Findings show that Instagram rakes a unique daily visit of 1.3 million. That's a giant eyeball.
At this point, Instagram is beating TikTok, Snapchat, Twitter, and Pinterest. So when it comes to audience reach, you might want to go for Instagram.
26. Only 0.1% of Instagram users stick to it alone
On its face, the chances that an active Instagram user also uses another social media platform is 99.99%.
Hence, 83% of its users, for instance, also use Facebook, and 55% of them can also be found on Twitter.
27. Age 18 to 34 form the most significant part of Instagram's audience
This demographic statistic accounts for over 60% of Instagram's prosperous audience. Prospective Instagram marketers should take notice.
28. India has the most significant number of Instagram users globally
While there's no need to announce further that Instagram offers broader access to her global audience, 201 million users are from India.
The U.S came second with 157 million users. Followed by Brazil with 114 million, then Indonesia, then Russia, in that order.
This information is very vital in defining your target audience, how to reach out to them, the kind of content to curate, etc.
29. The most downloaded social app in Q4 of 2021 is Instagram
Since 2014, Instagram had its best-ever quarter in the Q4 of 2021 when it leaped four places to the top — narrowly rock-climbed TikTok.
Initially, the social network was ranked number five most downloaded app before its breakthrough in 2021's 4th quarter.
30. On average, Instagram has a 0.98% engagement rate per post.
Oh! Now you know why your posts are not attracting as much attention as you'd like to.
That's correct; it's not imagination but reality. Only 0.98% of Instagram posts and story gets clicked on average.
31. 91% of Instagram users watch videos on the platform weekly
IG allows its users to either post photos or videos. For accounts with less than 100k followers, images work wonder than videos.
But if we are talking about Instagram videos in general, 91% of its users watch videos on the platform every week.
Tiktok Creator Economy Statistics
You'll agree that the TikTok creator economy has exponentially grown and become popular in the past few years now.
Particularly among Gen Z and the younger Millennials. As of January 2022, Statista reports that TikTok has over 1 billion active (monthly) users.
Without any delay, below are the intriguing TikTok creator economy statistics:
32. Charli D'Amelio is the most followed TikTok creator in 2022
The most followed creator on TikTok is dancer Charli D'Amelio with over 136 million followers globally as of February 2022.
The second most-followed TikTok creator is Influencer Khabane Lame having 132.6 million fans, followed by singer Bella Poarch with 88 million followers.
33. In 2021, 53.79% of TikTok creators were women
In the middle of 2021, the vast number of TikTok content creators were women, with men only accounting for 46.21% of creators on the social app.
34. The most used hashtag on TikTok is "FYP."
The hashtag "fyp" means "for you page," It officially became the most used hashtag by TikTok users generating over 18.57 trillion views.
The hashtag "viral" came second, with nearly 6.3 trillion views on short-video posts on Tiktok using the hashtag.
The third most used hashtag on Tiktok as of January 2022 is "duet." This word refers to video content that creators can mirror, share, and comment on, and it has over 2.4 trillion views.
Twitter Creator Economy Statistics
At the end of 2022, Twitter's monthly user statistics in the United States witnessed an addition of 0.2% to 55.6 million.
Towards next year, those figures are expected to begin gradually moving downward. The takeover, new policies, and all effects.
However, the number of Twitter global monthly users will slowly surge through 2025.
Lastly, Twitter's frequent rollout of features and algorithms may seem disjointed. However, Ticketed Spaces, Super Follows, and its privacy policy updates are all targeted towards a common goal.
The goal of keeping the Twitter content creators and active users on and alive on the platform.
Conclusion
From the preceding, it can be deduced that the creator economy is in its nascent stage with lots of growth potential.
In 2023, the industry will grow even bigger and better with media enterprises coming into the space, and investors are seen lurking around with ad revenue opportunities for creators.
There will be more wealth in the creator economy in the coming years. As such, creators should get set and gear up to grab these fantastic opportunities.